Call us at 845-291-1265 to schedule a delivery to your home, business, or job-site
Don't have access to a truck or trailer?
We can deliver your order right to your door!
NO QUANTITY IS TOO GREAT!
FROM 1 YARD TO 1,000 YARDS...
MULCH-MART HAS THE EQUIPMENT AND DRIVERS
TO DELIVER DIRECTLY TO YOU!
The Mulch-Mart Delivery Advantage:
Speedy delivery - often the same day!
We only use our own fleet in comparison to other competitors
Our drivers are professional and courteous
Most drops are made right where you need it on driveways or hard ground

Back of house deliveries can be accomodated with our Super Sacks & Machine (see images below)
We can handle larger deliveries upon request with our own fleet
We track our vehicles location in real-time!
---
WITH THIS MANY OPTIONS WE ARE SURE TO HAVE THE
PERFECT FIT FOR YOUR JOB AND BUDGET!
Not sure of the amount of mulch or stone you need? Let us help!

Our YARD CALCULATOR can help narrow down how much product your job requires

AND

Friendly MULCH-MART associates are standing by at 845-291-1265 for any other questions
---
DELIVERY VEHICLES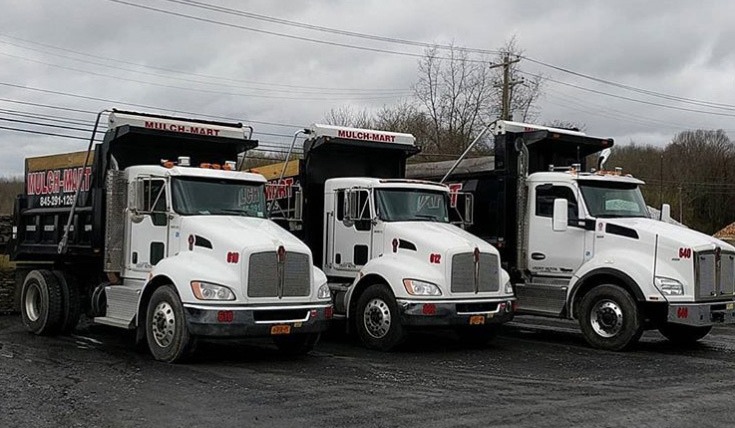 DUMP TRUCKS: Carry up to 15 Yards of Mulch, 8 Yards of Topsoils & sand, stone products (not palletized)
TRI-AXLE DUMP TRUCKS: Carry up to 30 Yards of Mulch, 20 Yards of Topsoils & sand, stone products (not palletized)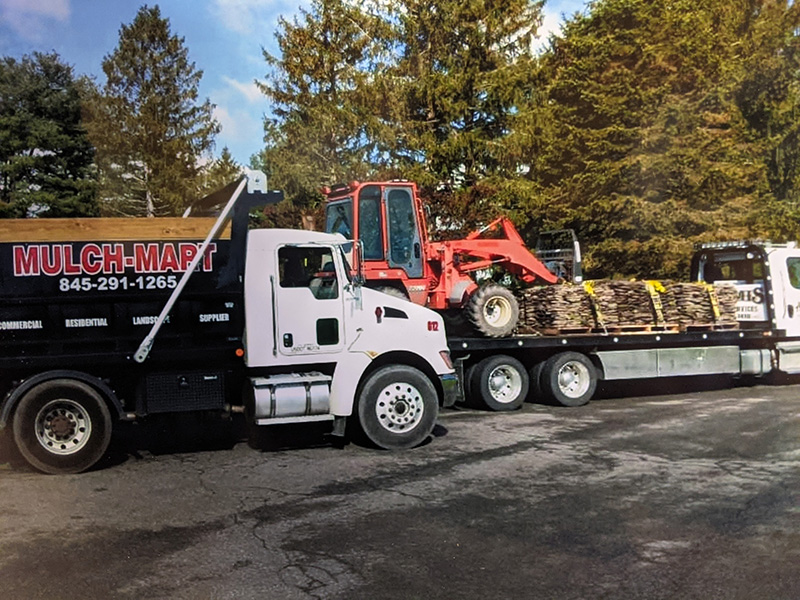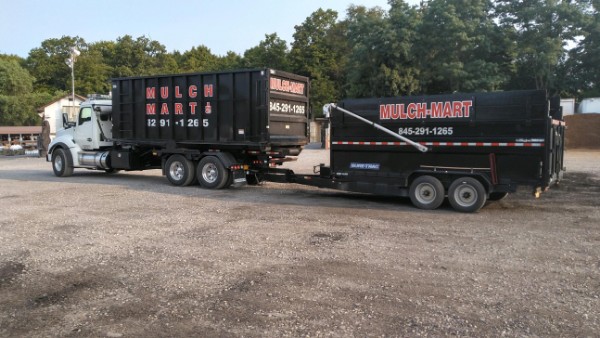 ---

ATTENTION LANDSCAPERS!
Have your product on-site and ready for installation! Save time and money by having MULCH-MART deliver your order to your next job.
---

"BY THE YARD"

Most Cost Effective

Pickup or Delivery

Large Quantaties for Big Jobs

Half Yard or Full Yard

"BY THE SACK"

Convenient and Cost Effective

Pickup or Delivery

Easily Seperate Multiple Materials

Covers 1 Cubic Yard (Most Material)

"BY THE BAG"

Convenient

Pickup or Delivery

Small Areas and Spot Coverage

2 Cubic Feet

"BY THE CONTAINER"

Bulk Material Delivered On Your Site.

Loose or in Containers

We can drop sacks of material now closer to your project location. Inquire about this service you won't find anywhere else.